Dinnerless Friends Dinner 2020
Supporting ICSS Home Economics Room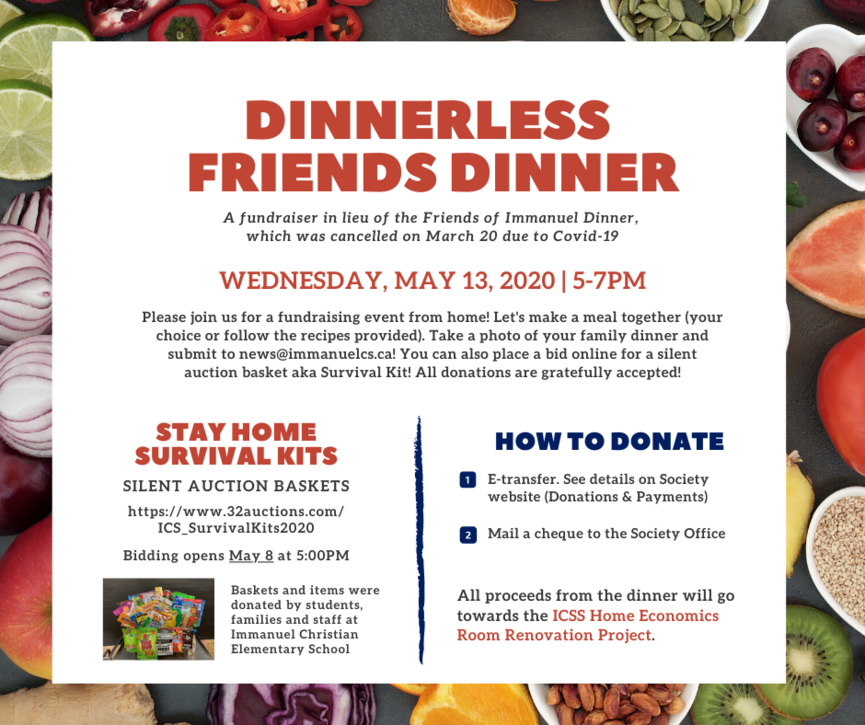 Wednesday, May 13, 2020 | 5-7pm
A fundraiser in lieu of the Friends of Immanuel Dinner, which was cancelled on March 20 due to Covid-19
Please join us for a fundraising event from home! Let's make a meal together (your choice or follow the recipes provided). Take a photo of your family dinner and maybe even wear your favourite Eagles/ICS gear and submit it to news@immanuelcs.ca or through our Facebook or Instagram pages! You can also place a bid on a silent auction basket aka Survival Kit! All donations are gratefully accepted!
All proceeds from the dinner will go towards the ICSS Home Economics Room Renovation Project. This important space is in need of an upgrade!
How to Donate
1. E-transfer
Please use your own online banking with these details:

Email address is: business@immanuelcs.ca
Question is: What school do my children attend?
Answer is: Immanuel
2. Mail a cheque
SCESA, 802 - 6 Ave N, Lethbridge, AB T1H 0S1

Please make cheques to Society for Christian Education, with Dinnerless Dinner in memo line
If you still have the form and envelope that was mailed out for the Friends of Immanuel Dinner, you are welcome to use that as well.
Recipes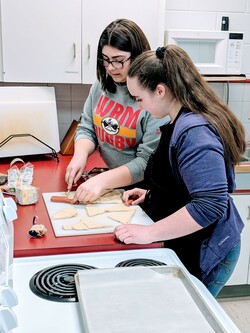 *Ice cream cake needs to freeze overnight so prepare in advance
Stay Home Survival Kits - Silent Auction
For the silent auction baskets, we are using an online bidding platform through 32Auctions. Please create an account and sign in to place your bids! Winning bidders can make arrangements to pay for and pick up their baskets through the Society Office (403-327-4223).
Silent Auction opens on Friday, May 8 at 5:00PM and closes on Wednesday, May 13 at 6:00PM.