Back to all posts
Posted on
Croquette Fundraiser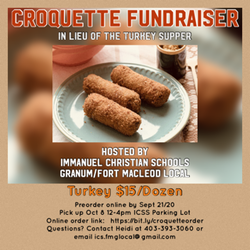 Fort Macleod/Granum Local of Immanuel Christian Schools are excited to host a Croquette Fundraiser in lieu of our Annual Turkey Supper (which sadly we had to cancel).
As the Turkey Supper was always a very successful fundraiser for our schools we would very much appreciate monetary donations in addition to your croquette order if you are able to do so. Charitable Donation tax receipts are available upon request.
Turkey croquettes will be available to pre-order online, for $15/dozen. 
Order deadline is September 21, 2020. 
Croquette orders will be available for pick up at ICSS (in the parking lot by ball diamonds) on October 8 between 12:00-4:00pm. The croquettes will be frozen at the time of pickup. If this date does not suit you please make arrangements for someone to pick up your order for you.
At this time, we will be preparing croquettes based on pre-orders only. 
Payment by cheque payable to ICS (memo: Croquette Fundraiser) or cash is required on pick up date. 
Online order link: bit.ly/croquetteorder 
If you have any questions, please contact Heidi at 403-393-3060 or email ics.fmglocal@gmail.com