Back to all posts
Posted on
Fall Fill Up Nov. 21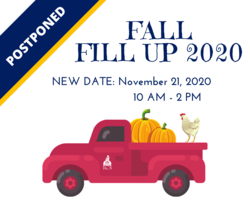 The Fall Fill Up is postponed until Saturday, November 21. 
The same pick up times will apply. We encourage you to pick up according to the following alphabetical time slots, by LAST NAME:
• A-G 10am to 11am
• H-M 11am to 12pm
• N-S 12pm-1pm
• T-Z 1pm-2pm
We are sorry for the inconvenience. Thank you for your continued support and we will see you on November 21st!
This fundraiser is in support of the ICSS Home Economics Room Renovation Project. 
If you have questions, please contact the Society Office at 403-327-4223 or business@immanuelcs.ca.