Back to all posts
Posted on
Fall Fill-Up and Online Auction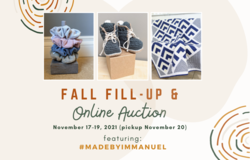 The previous Fall- Fill Up & Online Auction was a huge success and the promotions committee is excited to announce that these events will once again be happening on November 17-19 (item pickup: November 20). More details to follow.
At Immanuel, we believe everyone is gifted by God with unique abilities and talents. Last year, our auction theme MADE BY IMMANUEL was well received and we would love to bring it back to this Fall Fill-Up & Online Auction. If you are a crafter, builder, designer, baker, or other item maker, please consider donating to our school auction. Items must be received at the Society Office by: November 10, 2021.

* Regular non-homemade items are also once again accepted for this year's Fall-Fill Up & Online Auction. There is a minimum value of $50 requested for other/non-homemade donated items.