Back to all posts
Posted on
ICSS is Hiring a Auto Mechanics Instructor!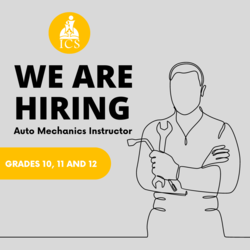 ICSS is looking for an instructor for the Auto Mechanics courses at the Grade 10, 11 and 12 levels. This is approximately a .25 FTE position that commences September 6, 2022.

The ideal candidate will:
· Possess a journeyman ticket in automotive mechanics
· Have experience in a teaching environment
·  Enjoy working with high school students

If this is something that interests you, please contact ICSS principal Matthew Bekkering at matthew.bekkering@lethsd.ab.ca or call (403) 328-4783.