Our Schools
Faith & Learning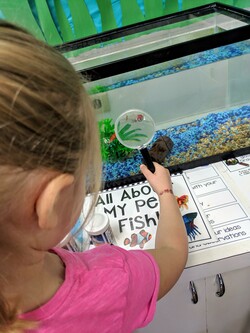 We believe that our children are fearfully and wonderfully made. They are God's gifts to us. One of the most important contributions that we can make in our children's lives is to provide them with an education that recognizes the fundamental connection between faith and learning. We strive to do this for all of our students regardless of abilities and needs. We are pleased to offer a complete Christian education for students in Early Education to Grade 12 on two campuses:
Elementary K-5
Elementary education encompasses a child's first real formal education experience. Students are immersed in the foundations of Literacy and Numeracy in different activities at the school. Students are also coached through and gain experience with character development. As a means of centering learning around our Christian mission, we endeavor to have all our units taught from the perspective of our Biblical Teaching for Transformation throughlines.
We see Christian faith formation and active learning as two things that work in concert with one another. Given this, we actively promote Formative Learning Experiences (FLEx) in all our grades. FLEx is a process, where students serve, address a need in our community, while at the same time engage in a form of experiential learning. Some examples of FLEx are:
Students performing a Nativity play at a homeless shelter
Developing math skills by collecting and categorizing cans that will be donated 
Researching and presenting about charities that gifts will be shared with
Measuring ingredients, baking and selling cookies to raise money for Compassion Canada
Having students use statistics to point out injustice in the world as well as brainstorm strategies for remediation. 
Holding a Friendship day where all students learn about and reach out to different groups of people in our community
ICES also celebrates and endeavors to provide co-curricular opportunities for students. Students participate in a running club, intramurals, floor hockey events, a grade 5 basketball league and a school wide sports day. Music is celebrated through weekly singing across school, regular music classes, grade 5 band, participation in worship at school chapels and one of the highlights of our year – the ICES Spring Program.
We celebrate Christian Education Week during the first week of May (this coincides with our School District's Education Week). The week is full of celebration as we begin Monday morning with chapel as well as our Open House. On Tuesday afternoon, the school gym is transformed with art work and flowers for our Grandparents' Tea. The week concludes on Friday with our Spring Coin Carnival which is led by the Grade 5 students. Proceeds go to different causes. On Friday evening, we celebrate together at the Roast Beef Dinner which is held at ICSS.  
Throughout the school year we have monthly theme chapels as well as a monthly lunch with our chapel groups on our early dismissal days. Other activities include:
September – Annual Terry Fox Walk/Run
October – Thanksgiving Chapel, food collection for the food bank
November – Remembrance Day Chapel, participation in the Legion's Remembrance Day poster contest
December – weekly Advent chapels, food collection for the food bank
January – Grade 5 Band Concert
February – Friendship Day – various activities
March – Spring Program
April – Running Club
May – Running Club, Grade 5 Celebration evening
June – Sports Day, Grade 5 Stomp Projects
Grade 4 & 5 students have opportunity to serve through various clubs – earth keeping (recycling/compost), praise team (serving in theme chapels through Scripture reading, leading worship), tech team (chapel set up, Power Point presentations) and a promotion club takes care of changing our front sign as well as promoting community throughout our school with different signs and messages.
ICES also tries to promote and facilitate community across all grades.  One way of doing this is through "Book Buddies".  This is where an older student is partnered with a younger student for coaching/ help with reading. 
ICES also has chapel groups.  The groups are made up of students from across all grades – every student is in a group.  Groups will have lunch together once a month, participate in different activities together and compete as teams in our annual sports day. 
At ICES we truly strive to provide a Christian environment in which God calls His children to develop and use their gifts for joyful service in His kingdom. 
Storylines
A classroom storyline is a year-long theme that invites students to see how they fit into God's broader story. It helps them see the world as God sees it, and shows them how they can worship and serve God, even as elementary school students. Our storylines this year are:
Kindergarten – 'Kids of the Kingdom'
Grade One – 'Shining our Light' (Matthew 5:16)
Grade Two – 'Blessed to be a Blessing' (Ephesians 2:20)
Grade Three – 'Journeying with God' (Jeremiah 29:11)
Grade 4A/4C – 'Trust the Light' (John 8:12)
Grade 4B – 'Building the Dream Team' (1 Thessalonians 5:11)
Grade 5B – 'Where in the World do I Belong' (Psalm 24:1)
Grade 5A – 'Fight the Good Fight' (1 Timothy 6:12)
Middle Grades 6 - 8
Middle (grades 6 to 8) is a huge transition between elementary and high school. It is a time of self-discovery and reflection. While this period can be a difficult and challenging time, it is also exciting. Students begin to develop independence and soon learn that they need to start taking ownership of their learning.
All Middle students take the following core courses:
Bible Study
English Language Arts
Mathematics
Science
Social Studies
Physical Education
French
In addition, we offer the following option courses:
Art
Home Economics
Computer Studies
Woodworking
Choral Music
Instrumental Music