Back to all posts
Posted on
Croquette Fundraiser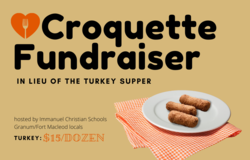 Turkey croquettes will be available to pre-order online for $15/dozen. They come frozen to be deep fried or baked by you.
CLICK HERE to order
Order deadline is Oct 1, 2020.
Croquette orders will be available for pick up at ICSS on October 18 between 12:00-4:00pm. If this date does not suit you please make arrangements for someone to pick up your order for you.
At this time we will be preparing Croquettes based on pre-orders only.

If you have any questions please contact Heidi:
Phone: 403-393-3060
email ics.fmglocal@gmail.com
Thank you once again for your support, Fort Macleod and Granum locals!