Back to all posts
Posted on
Little Caesars' Fundraiser is now open!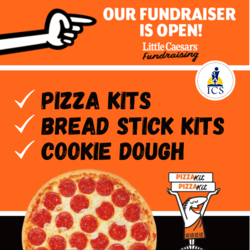 It is pizza time again! Immanuel Christian Elementary School (ICES) is running our second annual school fundraiser with Little Caesars Pizza. We are selling pizza kits, bread stick kits, and cookie dough. This is a great fundraiser for our school as $6.00 from each kit sold comes back to fund school related activities.

HOW TO ORDER:

http://www.pizzakit.ca/fundraising-products?shop=1...
OR
Go to www.pizzakit.ca
Click on Products then Shop
Select "Purchase & Support a Local Fundraiser"
Fundraiser ID: 390187


The fundraiser is open online and will be closed on January 24.
Pizza pick up will be the week of February 7 - 11, 2022 with more details to come. As these are large boxes, they cannot be sent home on the bus.