Back to all posts
Posted on
Bits & Bytes Results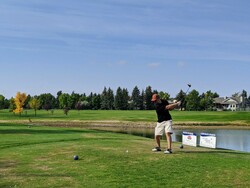 It was a beautiful day for our 23rd Annual Bits & Bytes Golf Classic. We had 134 golfers out at Land O' Lakes enjoying the sunshine and a fun game together. 
Thank you to all the sponsors, donors, golfers and volunteers who make this day a great success! Together, your support raised $41,000 towards technology education at Immanuel Christian Schools.  
Special thanks to the Bits & Bytes Committee - Nadyne Alaric, Vince Peters, Rob Konynenbelt and Harry Korver.  Thank you also to retiring committee members Jim & Ruth Vanden Heuvel and Jay & Danielle Visser for their many years of faithful service.
Thank you to day-of volunteers Bonnie Strikwerda (who hasn't missed a tournament yet!) and Carol Prakash. Also, thanks to Rachel Amantea and Monica Loewen for running the putting green contest & helping at check-in (plus, Amanda Turner for set-up!).
The next tournament is already booked for September 11, 2021, so save the date! Thanks again for your continued support!   
Top team prizes:
Entered teams 
Kevin Nieboer, Tyson Pariseau, Clayton Ressler, Ryan Divins (-16)
Cam Stromsmoe, Mylo Stromsmoe, Mike Schooten & Chad Billiyard (-15)
Created teams:
Rob & Wanda Konynenbelt, Dave Heins and Caden Heins (-9)
Jim Vanden Heuvel, Mark Heshka, Erin Barwegen (-7)
Hole prizes:
#3 - Closest to the line = Murray Johnson
#4 - Men's longest drive = Cam Stromsmoe
#9 - Men's longest putt = Caden Heins
#13 - Ladies longest drive = Tamra Barwegen
#16 - NO water hole = Lisa Coccimigilo
#16 - Correct guess for number of balls in the water (4 correct guesses of 37) DRAW winner = Rob Veldman
#18 - Ladies longest putt = Tamra Barwegen
Putting green contest winner = Jason Ferrie ($400 to Crowsnest Pass Golf Club)
Sponsors: (Click here for pdf)
Corporate Sponsors:
A & A Houweling Farms
Alberta Prime Beef / Transport
Bill & Marilyn Schooten
Capstone (Justin Van Dyk Chartered Accountant)
Chinook Dairy Service
Christian Credit Union
Dronkelaar Farms
Dutchie Dirt Moving
Joe & Corlene Groenenboom
John Bekkering
K3 Seeds - Leighton & Elinor Kolk
Lo-Cost Propane
Marylander Holsteins
Nieboer Farm Supplies
Western Trade Winds Ltd
Gold Sponsors:
Bethel Windows and Doors
Complete Agronomic Services
Dr Paul Hall
GTL Trucking
K4 Distributing
STK Mechanical
Vanee Livestock Marketing
Vanee Truckwash
Westland Insurance Group Ltd
Silver Sponsors:
Airtech Heating & A/C Ltd.
Bridge Central Service/Towing Ltd.
Koster's Bakery
Leon's
Nutrisource
Trouw Nutrition
Bronze Sponsors:
Favour Holsteins
Friesen Plastics
Gail's Apothecary
Home Hardware (Taber, Coaldale, Picture Butte)
Lethbridge Custom Canvas
Mercer Seeds
Randy Slomp
Southern Irrigation
The Lethbridge Herald
Thank you for your donation:
Cornerstone Funeral Home
Gerty Heinen
Hanlon Ag Centre Ltd
John & Bertha Van Zeggelaar
Silver Automotive
Prize Sponsors:
All-tra Battery
Beachcomber
Communications Group
Land O Lakes Golf & Country Club
Lethbridge Dairy Mart
MacDonald Nissan
PepsiCo Frito Lay
Picture Butte Hotel - Telegraph Tap House -
Water Tower Grill & Bar
Save On Foods
Subway Auto Service
The Engravers
Western Trade Winds Ltd.