Back to all posts
Posted on
Christian Education Week - May 1-5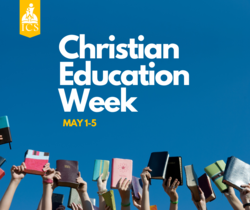 Christian Ed Week has been celebrated the first week of May here at Immanuel for many years.  It's simply a week to acknowledge the gift that Christian education is, to bring awareness and to celebrate the wonderful things happening in our schools. There will be many student events happening at both campuses to recognize Christian Education week and invite you to join our community events.
• Monday, May 1 - Chapel at ICES, 9:00am, led by the grade 2 class. 
• Wednesday, May 3 - Chapel at ICSS, 10:30am.
• Friday, May 5 - School Family BBQ from 5:30 - 7:00 Click Here for more information.