Back to all posts
Posted on
Grade 2 students connect with senior buddies at St. Therese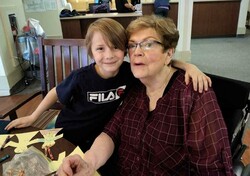 As part of the Grade Two Social Studies curriculum for our study of the past, we have once again matched all our students with a senior buddy at St. Therese Villa.
Some of the students are a bit nervous at first, as it is hard for them to know what to expect and they get apprehensive about meeting their "new senior" and trying to "bucket fill" to them. Everyone always "steps up to the plate" and usually comes away from their visit with a positive experience.
Before our first visit in September, the teachers pretend to be a senior at St Therese, having a visit with a grade two student. After some examples and scenarios are presented, the grade two students are paired up to practice interviewing each other.  
Students visit their senior for about an hour once a month, spending time asking questions to learn about them and the past, reading a book or two, making a craft and playing a game together.
Here are some of the student responses:
"My senior is one of the BEST seniors ever! I bless my senior by making her feel special and by giving her cards I make. The best thing about spending time with my senior is that we are kids that fill their hearts with joy!" by Hailey
"I enjoy visiting my senior at St. Therese. I bless him by listening to him and working with him. The BEST thing about my time with him is spending time reading books to him because he likes it and so do I! We also enjoy making crafts together! " by Malcolm
"I love my senior so much!  I'm glad he's MY senior! I bless him by singing songs of praise to him at Christmas time. The BEST thing about spending time with my senior is I get to read with him and we get to color...he likes to color with me!" by Jude
"I enjoy making crafts with my senior. I bless my senior by singing Christmas songs about Jesus to him. The BEST thing about spending time with my senior is I get to read joke books with him. It makes him laugh!" by Peter
The students prep their visits by going over their interview questions, listing their visit plan, making a card and craft to leave with their senior, and often pray for their senior.
Many times their seniors are waiting in anticipation of their visit and give lots of compliments!
This year because we have three grade two classes, St Therese has accommodated our large number of students by including some patients from the dementia floor to join the program in their rec room. 
Each year we feel blessed and excited to be part of this "bucket filling ministry"!   
Submitted by Mrs. VH, Mrs. Skidmore & Mrs. Heshka
Grade 2 Senior Visits