Back to all posts
Posted on
Students size up 3D printer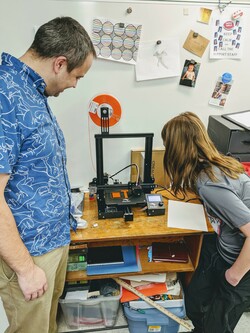 There's order to discover and beauty to create in Alan Riewe's Grade 5 classroom at Immanuel Christian Elementary School this year.
With a 3D printer on hand and coils of plastic filament ready to go, students are exploring the exciting world of STEM - science, technology, engineering and mathematics, as well as art and design.
"Students can log on to Tinkercad (a free, easy-to-use app for 3D design, electronics, and coding) and start creating their own 3D designs," says Riewe. "It challenges them in design and problem-solving, and they are so excited to see their projects come to completion."
Riewe acquired the 3D printer, a Creality Ender 3 Pro, through a Professional Development Day. Then the ICS Ladies Auxiliary, a volunteer-run fundraising group, provided a grant for the cost of the filament coils.
Since then, he has encouraged students to work on their own designs, and then he prints them during school hours. The small 3D printer sits behind Riewe's desk and does its work quietly, but not always quickly. Since filament is printed layer by layer, some more complicated designs can take hours (not including printer warm-up time).
Riewe has downloaded code for some unique designs, such as lizards and dinosaurs. He even printed a lizard for each of his students as Christmas gifts.
When asked how he would describe what the printer does in Grade 5 terms, Riewe said, "The 3D printer builds what you design, layer by layer."
He hopes to use it in the future to design and print the bases for the electric cars that the students build later in the year.
Bella Amantea, Grade 5 student, has worked on several designs through Tinkercad and says she loves seeing the designs get printed.
An added benefit is that you can personalize the designs, like making a bookmark for someone who has a name you wouldn't find on any store-bought personalized item.
"I am learning all of this along with the students," says Riewe. "My hope is that it inspires students to learn more about design and STEM in general."
ICES delivers Alberta Education curriculum to students through the lens of a program called Teaching for Transformation, which provides a framework for authentic and integral Christian learning experiences. Two of the 10 pillars of this framework are known as Order Discoverer and Beauty Creator, which tie in nicely with the 3D printer projects.
Riewe says 3D printers are becoming more commonplace and can be used for many practical applications, such as manufacturing small parts for anything from sports equipment to household items to musical instruments. With 3D printers, manufacturers can lower costs and produce products quicker.
"You can basically create anything you can imagine and design," says Riewe. "You just need the digital file and the right material."
Written by: Sarah Sutton
Date: January 23, 2020