Back to all posts
Posted on
Spring Society Meeting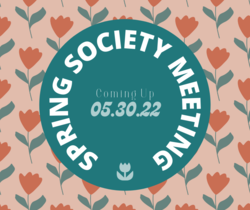 Hello Society Members!
We are excited to invite you to the Society Spring Membership Meeting on Monday, May 30, 2022 at 7:30PM in the small gym at ICSS. This will be an in-person only meeting.
There are a number of important items that will be part of the meeting, so please read through the meeting package carefully.
- We will be voting on the proposed update to the Constitution and Bylaws. This document was sent to you in early May for your review. Please remember to bring your copy along for reference. If you are looking for the current version, you can find it on our WEBSITE.
- The Society Board is proposing changes to the Society staff structure. Added will be the positions of an Executive Director and a Director of Discipleship (Chaplain). Reallocated or discontinued will be the Transportation Coordinator and the Events Coordinator. Please see the further details in the meeting package.
- The 2022-2023 Budget and fee schedule update.
Should you have any questions, please feel free to reach out to the Society Office and speak with Society Business Manager, Jason Ferrie at 403-327-4223, business@immanuelcs.ca, or reach out to a Society Board member.
CLICK HERE for the meeting package.