Back to all posts
Posted on
Wall appointed principal at Immanuel Christian Elementary School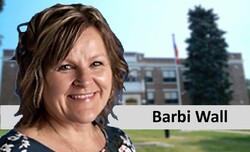 Lethbridge School Division is pleased to announce Barbi Wall has been appointed principal at Immanuel Christian Elementary School.
Wall's caring approach to all those she touches as an educator is at the forefront of her work as a leader. She is people-centred and able to bring out the best in all those she works with through trust, support and wisdom.
A genuine listener and leader who is passionate about building capacity of others, Wall has played a lead role in generative dialogue and professional learning at ICES. She possesses an unwavering commitment to Christian education and will be a leader who continues to work with the school community fostering the faith-based lens of the school.
Wall has extensive knowledge in the areas of literacy and inclusive practices. She is a reflective practitioner who believes in growth of self and others. Collaborative in her practice, she draws on opportunity to support staff members and distribute leadership. The school community will be well served with this passionate leader who is intentional in all she does.
"Working at Immanuel Christian Elementary School for the duration of my career has been a tremendous blessing," said Wall. "The collaborative environment, commitment to student growth and melding of the Christian faith with curriculum contribute to making ICES a quality alternative program within our division. It is truly an honour to transition into the role of principal as I serve our school community, partner with division leaders and support the ongoing development of Christian education. I am excited to begin this journey and anticipate this tremendous opportunity!"
Currently, Wall is vice-principal and Learning Support Teacher at Immanuel Christian Elementary School. She taught grades 2 and 4 at ICES for 16 years and was a Lead Teacher who supported curriculum initiatives and Teaching for Transformation development for four years.
Wall earned a Bachelor of Religious Studies majoring in Christian Education at Briercrest College and her Bachelor of Arts majoring in Music at the University of Lethbridge. Her Bachelor of Education was awarded at the University of Lethbridge. She recently completed her Master of Education majoring in Educational Leadership at the University of Lethbridge.
She has also served her community as a Children's Pastor and contributed to a breadth of professional areas of services including administrator mentor, member of the Division Literacy Action Plan Committee and FNMI Professional Learning Committee in Lethbridge School Division. She contributed to the Executive of the Prairie Centre for Christian Education, as well as the Leadership Cohort and Convention Committee.