Back to all posts
Posted on
25th Annual Bits & Bytes Golf Classic - THANK YOU!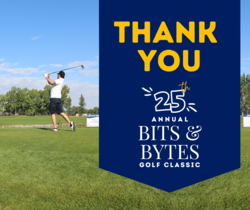 The 25th Annual Bits & Bytes Golf Classic took place on Saturday, September 17 at the Land-O-Lakes Golf & Country Club in Coaldale.  Over 140 golfers enjoyed the beautiful fall weather, with our winning team being made up of Kurtis Nieuwenhuis, Eric Procee, Scott Slomp & Doug Veldman.  
A huge thanks to all of our sponsors (linked below), including our lunch sponsor, Capstone CPA, our hole-in-one sponsor, Summit Livestock, and our dessert sponsor, John Bekkering.  A great day was had by all, with over $45,000 being raised for Immanuel Christian Schools - thank you!  Be sure to put next year's Bits & Bytes date - September 16, 2023 - on your calendar.  
2022 - 25th Annual Bits & Bytes Golf Classic Sponsors