Back to all posts
Posted on
Early Education is growing!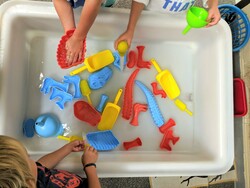 The ICES Early Education Program is growing! We are beginning to develop some momentum with the program now that we are in year 3! Our morning programs are full and we have a waiting list this year.
In connecting with parents, there is an appreciation for the program Mrs. Donna Faulkner, Program Manager, has implemented and continues to implement! The play-based learning approach of the program differs from a traditional classroom set up. The effectiveness in this approach can be seen by watching staff interact and communicate with students while they play.  Students are supported, loved and challenged to communicate and develop their ideas in this setting. 

The program is also very intentional about having a Christ-centered theme, which makes this an extension of the mission of our school. We are also very appreciative for the support team we have. Mrs. Melody Thiessen brings a lot of Early Childhood experience to our setting and has been has been here doing great work in the program for all three years! This year we also have Mrs. Sherry MacCrimmon and Mrs. Pam Corliss in the program - these ladies have been valuable ICES team members in the past and will no doubt continue to be this year! If you want to learn more about the program, I encourage you to come in and check it out and stay tuned for registration and open house dates in the new year!
- Jay Visser, ICES Principal
Curious about program details? Click Here