Back to all posts
Posted on
Fine Arts Annuity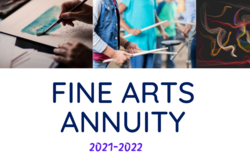 This year's Fine Arts Annuity is once again going to some great projects. On October 28, 2021, the Fine Arts Committee reviewed and approved the following proposals with the total amount coming to $3,962.65. The Fine Arts Annuity started in 2012 with a generous gift of $100,000 in support of Fine Arts at Immanuel Christian Schools, to be divided over 10 years. Staff at each school put forward proposals to be considered.

ICES:
• Simple percussion instruments
• Beginner music, Reeds for Clarinet/Sax, and Clarinet Sax mouthpiece cushion
• Wool Felting and Presentation

ICSS:
• Beginner music and Clarinet Sax mouthpiece cushion
• Workshop in Three Hills for Grade 8-11 students in May
• Potter's wheel pedal and stools

It was noted at the meeting that staff express a great appreciation regarding this annuity, as well as a special thanks to the donor for the funds. The funds allow for programs to continue to grow and support the God-given gifts of many students.