Back to all posts
Posted on
What does FLEx at ICES look like?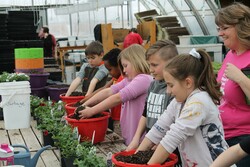 What is FLEx you ask? It is an acronym for Formative Learning Experiences. Others might be more familiar with the term "service learning". FLEx is one of the three key strands of Teaching for Transformation. In FLEx, we want students to respond to instruction, to own and actively participate in their learning, and to share the love of Christ with others!
Here are some examples at Immanuel Christian Elementary School:
Kindergarten - learning and practicing the nativity play (developing a deeper understanding of the Christmas story) and sharing this with not only parents, but different groups around the Lethbridge area (developing expression & community building)

Grade 1's creating Christmas cards (literacy) and delivering them on a neighborhood walk.

Grade 2's visiting seniors every month, talking and listening to them (relationship building), then from these conversations - creating a biography of their new friend that they share with the senior's themselves!

Grade 3 - going around and making signs and cards (art and literacy) thanking volunteers for those little extra efforts that often go unnoticed.

Grade 4 - visiting and connecting with people at Rehoboth Christian ministries, getting to know them (relation building) and learning more about some of the unique needs their new friends have (inclusion)

Grade 5 - organizing a bowling event in which another school was invited. Students were split up, made into teams, developed banners, competed in bowling and built relationships!

This is certainly not the extent of our FLEx activities, nor do they always stay the same. They can be big or small, but the key is to actively engage/challenge students in learning while also bringing a benefit to others....kind of like the grade 1's collecting and sorting their food items (patterning) before having it sent to the food bank (pictured)!